Interior Design, Furniture & Equipment Planning
Interior features serve as the interface between the facility and the learner. The effectiveness of a space is enhanced with the selection of furniture, equipment, colors & textures that are tailored to support its occupants and intended use.
Now more than ever before, we understand linkages between learning and physical space; that the shape, proportions, lighting, air quality, flexibility and customization of space can enhance learning outcomes, occupant health and wellbeing.  At BrainSpaces, this is our specialty - incorporating elements into physical environments that make a difference for both teachers and learners.
It is estimated that up to 80% of the "schools of tomorrow" already exist today.  This implies that meaningful and effective learning environments must be created within existing buildings, not just new ones.  While it may seem simpler to abandon outdated facilities and start over (and that may be true), our team is adept at transforming ho-hum schools into spectacular learning environments! Let us show you how...
Consultation
$100
We advise and listen to your wishes.
Mood Board and 3D Rendering
$300
Picking desired furniture and visualising rooms.
This example shows an existing classroom transformed into an interactive learning studio for multi-age elementary school project-based learning curriculum. Furniture, finishes, lighting and technology were replaced, and equipment such as sinks and a "genius bar" were added.  A previously unused outside area was also converted to a learning garden with both physical and visual access from this space.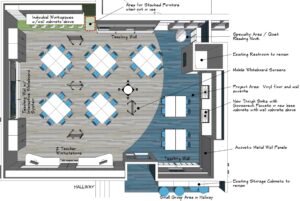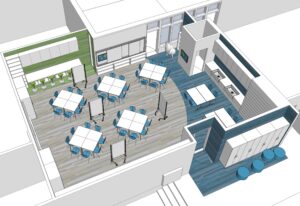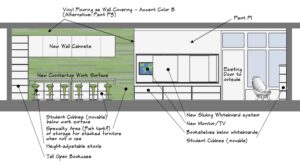 This example shows the entry area of an existing library and adjacent computer lab transformed into a 21st Century Media Center.