Educational Visioning
Planning a new school today offers a remarkable opportunity. More so now than any other time, we have greater understanding about education and the impact of facilities on learning.  We can create relationships between academic collaboration and facility organization. We can leverage individual student strengths and interests to design responsive environments. Plus, we know more about the benefits of community engagement in education and its contributions to student success. Creating a facility that captures the specific vision of education in your school or district can be transformational for your community.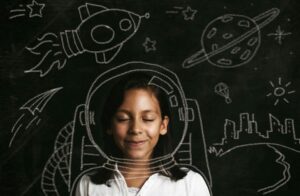 A Unique Approach
A traditional design process begins with square-footages and construction details, but we approach school design from the inside-out.  In short, we believe that the key to spectacular school facilities begins with the learner.  We must collaboratively determine what your school should BE (educational visioning) before we can define what it should HAVE (space planning).
We help you define a vision for your school that takes advantage of your community's hopes and challenges. What is ultimately envisioned will come directly from the aspirations of your citizens, parents, community leaders, students, teachers, and school board members with whom you interact every day.
Vision as Roadmap
The process of educational visioning is critical to the success of a school design project.  A strong educational vision can be translated into the criteria used to help design school facilities which are intended to support that vision.  Criteria developed from the vision are translated into facility strategies and spatial parameters such as school size and capacity, configurations, space types, technology, flexibility, extended use guidelines, spatial relationships and hierarchies, and the like. Without a strong educational vision, these criteria may not align with your goals, or worse, facilities are independently addressed without any alignment at all, which can lead to inefficient, inequitable, and short-term solutions. But with criteria developed directly from the educational vision, you have built-in assurance that decisions related to facilities are made with the best interest of the student in mind.